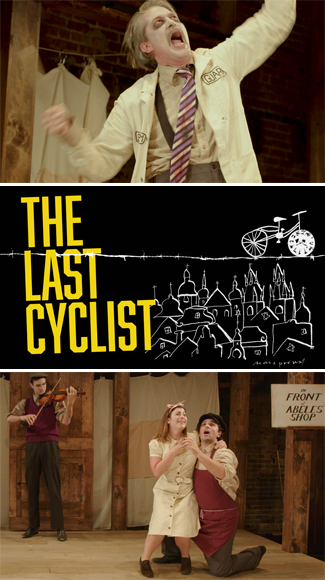 Nearly lost to time, the script of "The Last Cyclist," written in 1944 by Terezin Ghetto prisoner Karel Svenk for his fellow inmates, was painstakingly reconstructed by the writer and producer Naomi Patz beginning in 1995.
The scathing satire enjoyed a critically acclaimed run when it was produced at the West End Theater in New York in 2013 (at which time The NY Times called the production, "an intriguing exercise of Holocaust history," and "theater as a chance to bear witness." Directed by Edward Einhorn, this striking commedia performance was restaged at the legendary experimental theater La MaMa, and filmed over a four-day period.
This meticulously filmed and edited capture of a uniquely immersive performance that allows us to bear witness as if we too are attending that fateful dress rehearsal (it was immediately banned when it was shown), is a remarkable new addition to the historical record of Nazi atrocities, as well as a fascinating artifact of Jewish defiance.