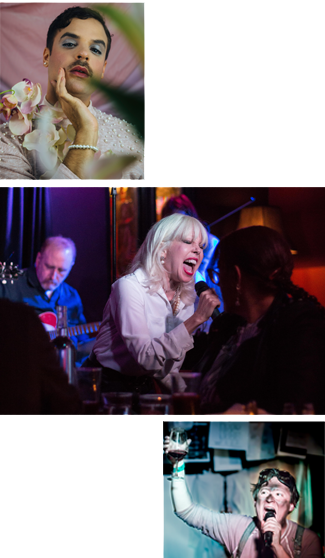 The tiny East Village supper club Pangea is known for supporting artists of all persuasions; offering an essential safe-place for taking artistic risks; and for its delicious and spirited Downtown hospitality. Its role as an incubator for new work, in a city where the cost of living has become prohibitively stratospheric for artists, is seen as vital to preserving the East Village's identity as a counter-culture hotbed.
A favorite haunt of East Village scene makers and artists since opening as Spaghetteria in 1986, Pangea started programing music and performance in January 2015.
An impressive roster of some of the most daring alt-cabaret artists working on the cusp of music, theatre and the spoken word use Pangea's intimate 60-seat showroom as their home base: Sidney Myer, Tammy Faye Starlite, David Cale, Salty Brine, Claywoman, Raven O, Carol Lipnick, Joey Arias, Flotilla DeBarge, Penny Arcade, the Jazz Bastards, Rachelle Garniez and producer Kevin Malony.
The NY Times has called the Joe's Pub neighbor "a bohemian oasis not unlike the fabled Max's Kansas City from days gone by."