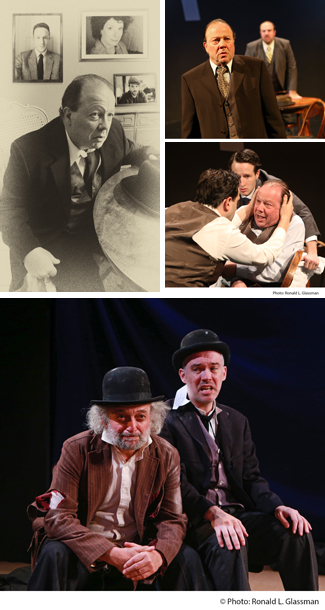 In 2013 New Yiddish Rep produced the internationally acclaimed and groundbreaking Yiddish premiere of "Waiting for Godot." That production was said to illuminate a classic of the modern theatre in new and unexpected ways.
In the fall of 2015, audiences of all backgrounds began to experience "Death of a Salesman," the classic of the American theater, in the language that some are convinced reveals its deepest ethical, ethnic and social meanings.
The Off-Broadway premiere, produced in association with the multi-cultural Castillo Theatre, opened on Arthur Miller's centennial in October, and was subsequently extended.
In 2016, New Yiddish Rep made waves again, producing the first American revival in Yiddish in decades of Sholem Asch's shocking and ahead-of-its-time 1907 drama, "God of Vengeance," which was the basis of Paula Vogel's "Indecent." With back-to-back runs Off-Broadway at La MaMa and St. Clement's, New Yiddish Rep's daring productions built on "Indecent's" initial run at The Vineyard while adding excitement for its Broadway run.